This report comes from TriEndeavors athlete Doug Kennedy.
With my "A" race scheduled for the spring I was looking for a "Winter" race I could use for some baseline data as I continued to work with Coach Stephen in preparation. So, I talked my sons into joining me the first weekend in December in Daytona Florida. The weekend was unique in my Tri experience to say the least!

The Venue:
First, I have to describe the venue because it's certainly the focal point of the weekend. The race is centered INSIDE of the Daytona racetrack; the same one where the Daytona 500 is held every February and many other racing events throughout the year. Without a doubt it was the easiest race to manage because you simply used the main "gate" for the raceway, drove through a tunnel under the track, and took advantage of plenty of parking spots. Many people were also camping in tents and trailers inside the track and there was an option to have an RV sitting ready for you. We grabbed a suite across the street, and it was literally five minutes to get from one place to the other.

The weekend:
This was my first experience with a "Clash Endurance" event. I was impressed as it was well organized, well supported, and with plenty of staff everywhere. The weekend starts out with a Pro-Race on Friday, broadcast live on YouTube, a sprint distance event Saturday with a kids Division too, and then the Middle distance Tri and duathlon Sunday. We also took advantage of paying $50 to take a couple of "hot laps" on the track Friday and glad we did. Unfortunately, you don't get to drive your own car but they do provide a driver and car who hits 120MPH and climbs the side of the 45-degree banked track. It was pretty wild and I can't imagine being in a car doing it at 200 MPH. Packet pickup Saturday was easy. The race came with a pretty nice mesh backpack, somewhat disappointing cotton T-shirt (The sold a lot of their own branded apparel on-site), and some temporary body number tattoos. Oh, bags also came with five pounds of Epson salt. That's a first!

Transition:
Transition was next to parking, tons of showers and bathrooms are already on-site, and the longest "non-ironman full distance" I've seen. There were basically two 150-yard racks in an area that could have held four, half of one wasn't used, and no one could figure out why we were all jammed in as tightly as we were. That said, there was a ton of room between rows so you just had to spread out in front of your bike. Still, the carpet was so nice and ran all the way to the swim in/out.

Swim:
The swim takes place in a lake inside the track. Remember, inside the track is about a mile wide so it's a long rectangle and felt more than big enough for the number of participants. After the national anthem and fireworks to start things we ran down the ramp, staggered three seconds apart. The course was a clockwise rectangle with a surprise at its furthest end. All of a sudden, the water was two-feet deep and we all monkey-ran ran about 30 yards before heading back. Buoys were okay but it probably could have been a bit closer as I found myself heading in a direction for a bit after passing one before I could pick up the next. The water was MURKY and I was happy that I had chosen to wear some barely tinted goggles since I never really had the sun blinding me and they helped when I swam close behind someone. The water was 71 and for me a sleeveless wetsuit was perfect. Lots of people were wearing their full suit for the first time at that distance and after the race they commented that they didn't need the warmth and how tired their shoulders were for the last quarter. Out of the water in third place in my age group nailing my goal pretty closely.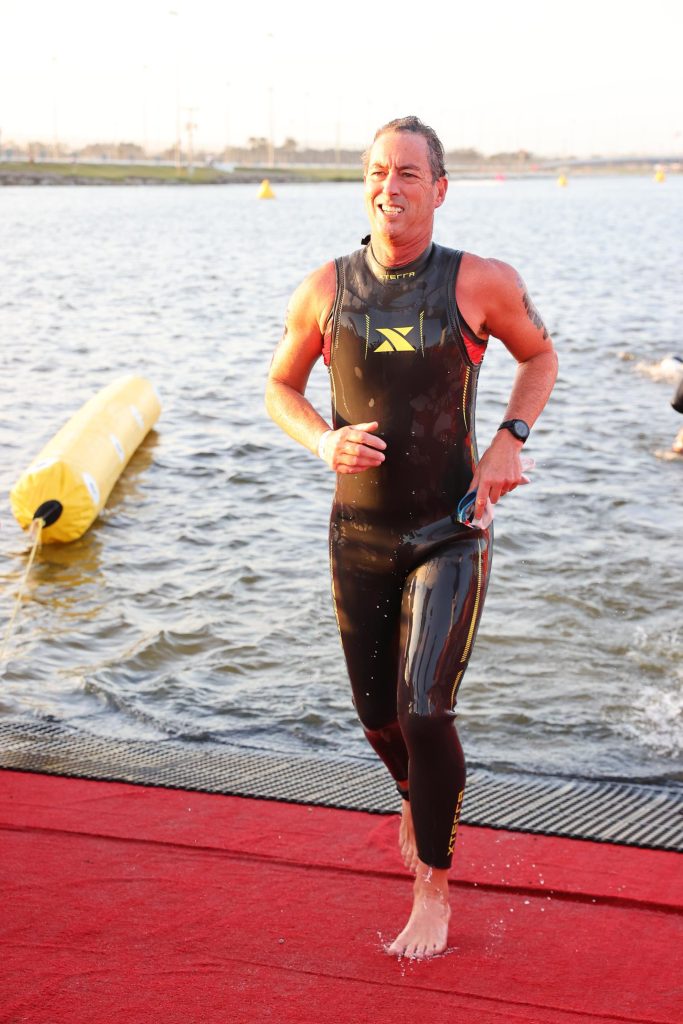 T1 and T2:
As mentioned, transition was LONG. My rack spot was at the far end so from swim to bike and bike in seemed like forever. I know, bike out and run out is closer then but I was happy I tied a bag to a nearby chainlink fence to mark where my rack spot was.

Bike:
Bike starts with a bit on the track….the flat part before heading out onto local roads. Intersections were crawling with police so there weren't any near-death moments like with poorly supported events. About six miles out the course basically becomes an out and back, turn-around ¾ of the way back and finish the out and back before heading back to the racetrack. There was one aid station but you pass it four times, so it was well-placed. My basic comment about the bike course is this, mind-numbing. I've done other Florida races like this on concrete roads. They were pretty smooth but 40-ish miles on seamed concrete with "Ka-thunk" when you hit the seams a few thousand times gets old in a hurry. Oh, I'd also advise tightening EVERYTHING on your bike. The Ka-Thunks managed to loosen up one of my Di2 bar-end shifters and it popped off and dangled for a few seconds while I thought "That's unusual", grabbed it, and managed to stay in aero while I snugged it back into place. Oh well, not much wind, comfortable temps, some hamstring issues from a new saddle and I was happy to be headed back to T2.
One thing I should mention is that it was easy to figure out when course officials would be around. The long double out and back made it so that when they passed you it was obvious to figure out the timing when you might see them again. So, there were a lot of 15-bike drafting packs. Looking at some of the bike times it's pretty easy to figure out who took advantage of this when a segment of their bike times is crazy faster than others. It's hard to avoid some drafting when things get bunched up but karma has a way of noticing. As a pack passed me heading the other direction someone got clipped and went over the top rope. He was okay but I passed a lot of carbon fiber shards a while later. Anyway, down and up a short tunnel to get back into the track, a mile around it and into transition. Bike time was 7th in my AG, my triathlon weakness reminding me it's still there, and letting Coach Stephen know where the off-season work needs to be.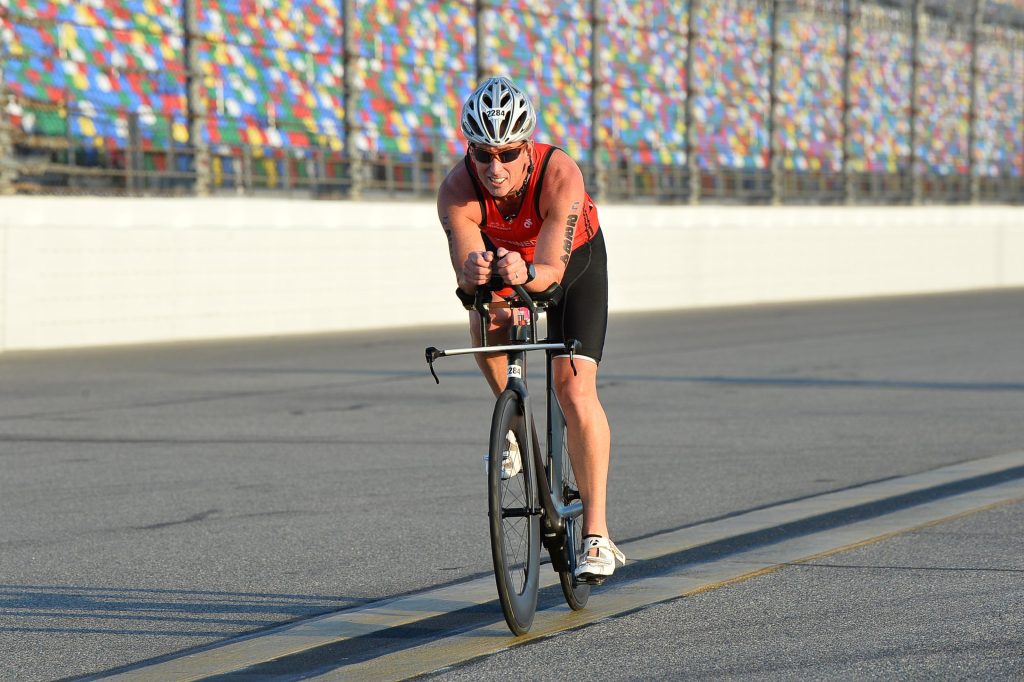 Run:
Heading off onto the run my goal was consistency and an end to excellent 10-mile runs followed by the wheels coming off for three miles and undoing a good pace to that point. ¾ of a mile on the track, banked turns on your right shoulder as you imagine cars two abreast passing you, and you head outside the track for a couple miles of random loops around other tracks and a motorcycle dirt flat track, and back onto the racetrack. From there it's another half lap before you run under the grandstand, and back, through a "festival of lights" that cars drive through at night. The good news is that it's in the shade. The bad news is that for some unknown reason there's a steep climb halfway through before it flattens out, and goes back down before the turnaround and you do it again. Oh, and the whole time there are Christmas Carols playing from deep in the recesses of the grandstands making for this weird horror movie vibe of Santa's evil workshop come to life in the middle of the summer heat (Florida….December). Well, out from under the grandstand, you pass 50 yards of fans, the only spot you'll see them on the course, and you start the second (last) lap. The finish is a couple hundred yards from the grandstand so it was easy to feel a bit better in the shade (the only shade on the course) before sprinting home. Overall, 99% flat but not an exciting run course. Running a 2 ½ mile racetrack is tough at times because of the scale. Nothing seems to get much closer very quickly! Run time was 4th in my AG and finished 4 th overall in my AG. Happily, third was 10 minutes faster and not 10 seconds so I didn't drive home 10 hours afterward (seemed like a good idea at the time) wishing I hadn't walked through a water stop!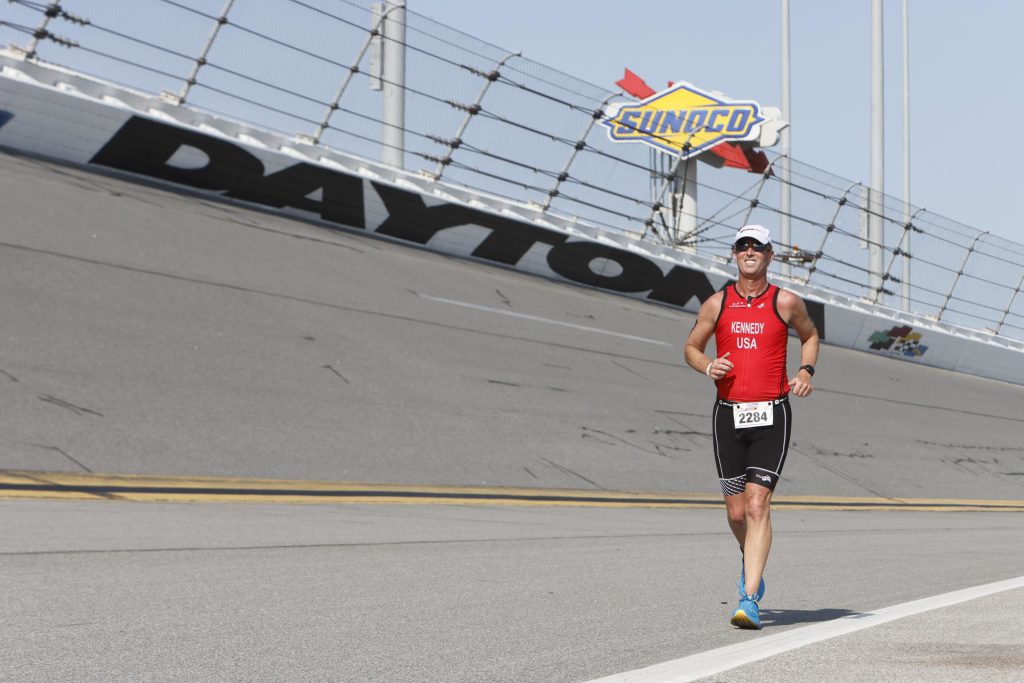 After:
Food and beverage, including Anheuser-Busch products, were provided. FinisherPix was all over the course and did a nice job. Oh, and the medal is massive. If you need an auxiliary boat anchor or shovel blade it might come in handy. I should also mention that Clash has its own app and my wife commented that it was pretty accurate during the race when comparing notes with my son on-site and it even predicted my finishing time pretty closely when I emerged from the swim!

Overall:
Overall, it was fun race and I'm glad my sons joined me. The site was easy to manage, hotels and restaurants everywhere and it's certainly unique. Since I train where it's flat I also didn't do any swearing at hills. My race time was better than expected and it really provided some good data free of hills/heat/headwind or anything else to hurt getting a good gauge going into the off-season. Would I do it again? Well, not unless I had three or four other people to race with I think. The complete lack of crowd support with the exception of the finish chute area, bike course to nowhere, and uninspiring run made me REALLY happy my sons were with me. If there's a next time I'll take an RV in the infield, fill it with race friends, and stay the night after! All of that said, if you're looking for an early December race it DOES have a lot going for it and if nothing else is really unique.